Abbotsford Jaycees' Annual Haunted House

For several years, I was a member of the Abbotsford Jaycee's(Jaycee chapter).
During that time, I was involved with their annual Haunted House project, in October, and, as I recall, for at least one of those years, I was in charge(i.e. chairman) of that project. The chapter used the Haunted House as a fund-raiser for their many projects. It was a big hit every year, with the young people.
In one year that I was involved with that project, I enlisted the help of a good friend of mine, and a fellow Amateur Radio operator(WA9ZCO), Marc Winzenried, who, at the time, was residing in Dorchester, WI.
Being an electronics engineer, by trade, Marc designed a "control panel" that would control our haunted house exhibit, including the operation of the "monsters" themselves, some strobe lights, as well as the music.
Here are a few photos: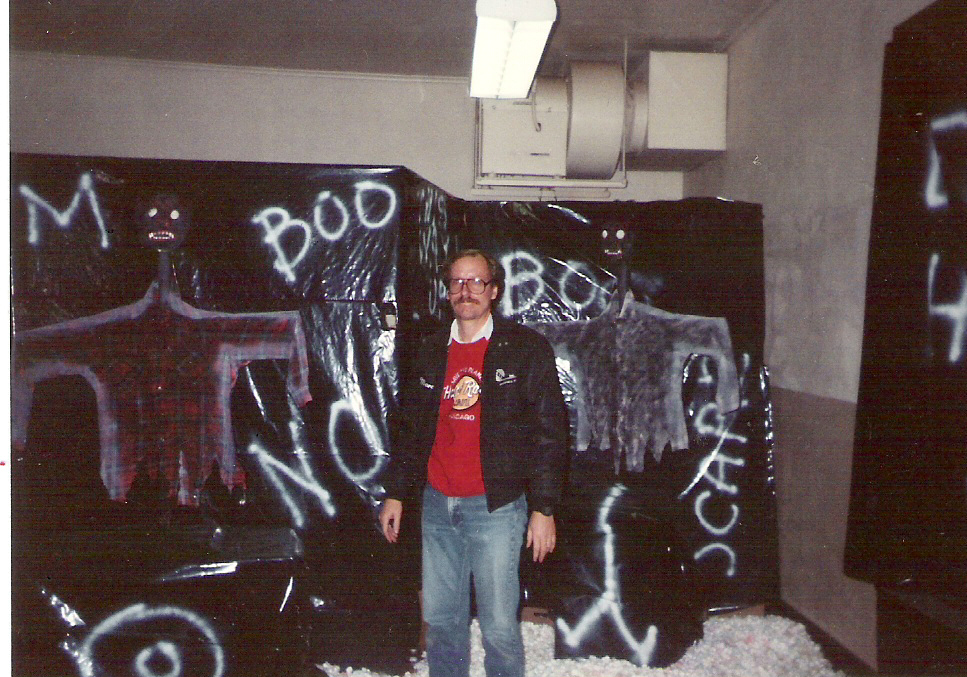 Here is Marc Winzenried, standing next to our display for the haunted house. This photo was taken in October, 1991, when we held the Abbotsford Jaycee's Haunted House in the old Abbotsford National Guard armory, in downtown Abbotsford. Marc and I had our display set up in a room in the upstairs of the building. It consisted of three "monsters", which Marc had put together. They were all "wearing" wragged shirts, covered with cobwebs, and the heads consisted of "monster masks" with "glowing red LED bulbs" in place of the eyes. In addition, each "monster's" head was mounted on a piece of black pipe, tied to a rotor, so that, in time with the music, each head's eyes would come on and glow and increase & decrease in intensity, as well as the entire head swiveling back and forth, in time with the music. We would show our display in a darkened room, for increased effect.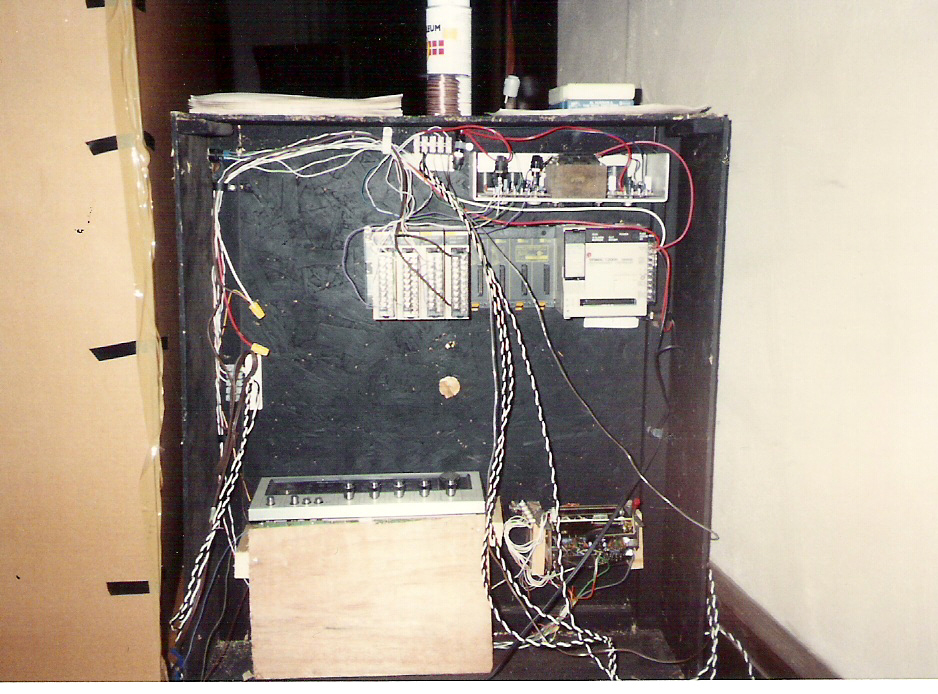 Here is Marc's "control panel" which electronically controlled our display. You can see an 8-track tape unit displayed in the lower, left-hand side of the control panel. We used music tracks from a Pink Floyd album, "The Wall", including the track "Is There Anybody Out There?", as background music for our display. The panel also included a stereo amplifier, a power supply and an Omron industrial programmable logic controller. The stereo amplifier was connected to a pair of speakers, good for about 50 watts each, with 10-inch woofers and 3-inch horn tweeters. A red backlit pushbutton on the side of the control panel was used by the haunted house "guides" to activate the entire light and sound sequence, at the appropriate moment.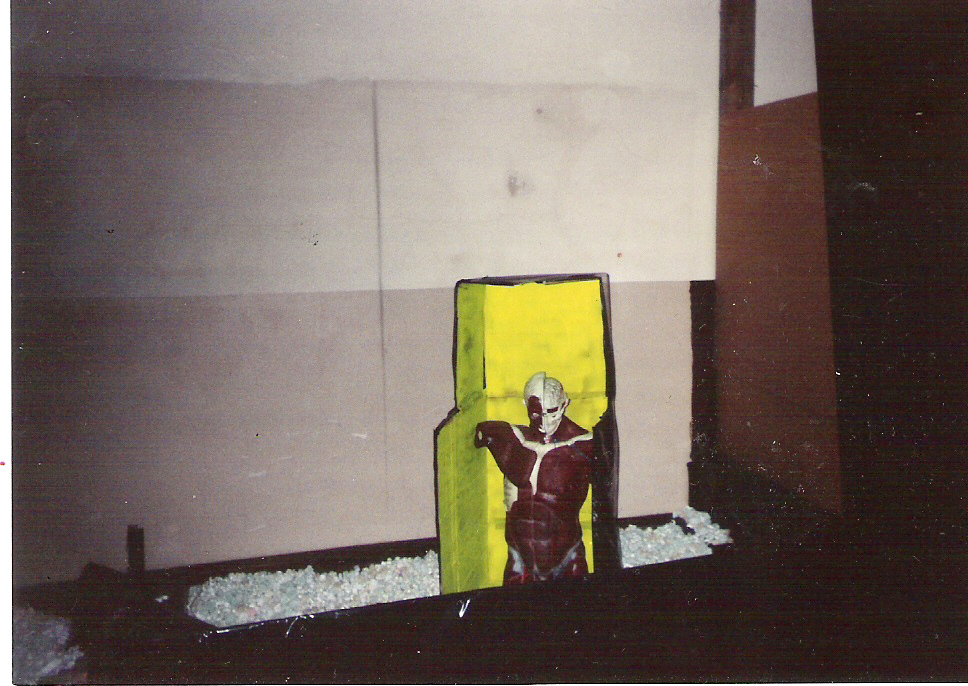 While Marc did the bulk of the "electronic" work, I helped where I could with the rest of our display. In this particular year, I had "borrowed" this "body", used to display the "innard workings" of the human body, from the local high school. I placed it in a couple of carboard boxes, which I had spray-painted with some greenish flourescent spray paint. So, with the lights out in the room, and controlled by Marc's electronics, at the appropriate moment, a "black light" would come on, showing this "gruesome guy".


When the Abbotsford Jaycee chapter was finally disbanded, Marc and I agreed that we would donate our Haunted House "display", including the 3 monsters, and their "electronic control panel", to the Medford Jaycee chapter. I wonder whatever became of it?


Return To Muzikman's Home Page